Important Letter to the Editor - Publisher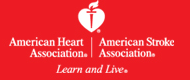 Dear Roger,

I just got an email from one of the AHA's Government Relations Managers and had to share this important news with you...

From: Stephanie
To: Clarissa
Subject: FW: HEART Amendment

Hi Clarissa-
Senator Stabenow(MI) has filed the HEART for Women Act as an amendment
to the Senate's health care reform bill and grassroots support will be
critical. Can you ask our You're the Cure advocates to get in contact
with their Senators ASAP to help build support? Thanks!

Can we count on you to act?

Urge your Senators to help millions of women live longer, healthier lives by supporting the HEART for Women amendment.

Heart disease, stroke, and other cardiovascular diseases are the No. 1 killer of American women, claiming the lives of more than 450,000 American women each year- a problem far too serious to ignore as the Senate debates the ways in which the health care system can best serve patients.

The amendment would add key provisions from the bipartisan-supported HEART for Women Act to the Senate health care reform legislation to help eliminate disparities in the diagnosis and treatment of heart disease and stroke in women. This includes:
Expanding the CDC's WISEWOMAN heart disease and stroke screening and lifestyle modification program to low-income women in all 50 states.
Providing gender and race-specific information about new drugs and medical devices to clinicians, researchers, and the patients to help them make better-informed treatment decisions.
Regardless of your Senators' views on the overall Senate bill, you must let them know that you are counting on them to find common ground and support provisions that will have a real impact on the health of patients, such as the HEART for Women amendment. Send your message of support today!

I will keep you posted on the progress of this amendment.

Thank you for acting for women's heart health!

Clarissa Garcia
American Heart Association

Heart Disease and Stroke. You're the Cure.